Introduction to GBA Plus
Ongoing monitoring of progress
Monitoring overall progress in implementing GBA Plus application and results involves gathering information about how GBA Plus is being applied in policy and program development and in decision-making. This allows you to highlight successes and to share best practices, as well as to identify gaps and new priorities.
For federal organizations, accountabilities exist for monitoring and reporting on progress, and central agencies may ask for evidence that GBA Plus is being routinely applied as part of their challenge-function role.
In support of this objective, consider gathering responses to the following questions on an annual basis:
What are specific examples of the application of GBA Plus to initiatives in your organization? Has GBA Plus resulted in changes to policy, program or legislative initiatives?
What measures have been taken to ensure the sustainability of GBA Plus in your organization?
Has your organization gathered or generated gender-disaggregated data or undertaken research related to gender? 
Pulling this type of information together on a routine basis allows the organization to build on its success and to ensure continued momentum.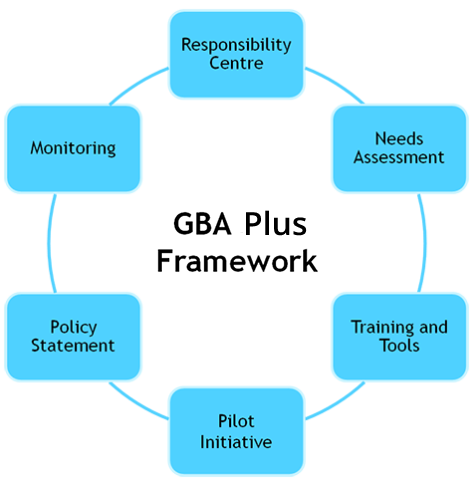 Case Study: GBA Plus framework in a public security organization

Case Study: GBA Plus framework in a public security organization

7 - Monitoring of progress

The Rockford GBA Plus working group is considering several options for monitoring progress in the application of its GBA Plus framework. These include:

An annual reporting requirement for each directorate, from which a departmental report will be created. The report will consist of examples of how GBA Plus was applied to policies and programs, and the results; and a listing of relevant data and research produced that year.
Regular progress reporting to senior management on the implementation the GBA Plus framework.
Inclusion of the GBA Plus framework as part of the department's overall performance measurement report.