Introduction to GBA Plus
Identifying a Responsibility Centre
The role of a GBA Plus Responsibility Centre is to lead, support, and monitor implementation of a GBA Plus framework, and the ongoing practice of GBA Plus.
The Responsibility Centre also provides oversight, direction, and promotion of GBA Plus across your organization.
It is recommended that the Responsibility Centre be identified in a part of the organization with broad reach, such as a strategic policy unit, to ensure access to various parts of your organization.
It is not recommended that a Human Resources or employment equity group be the lead. GBA Plus is intended to be applied within all sectors. While increasing diverse representation may be a priority, applying GBA Plus is about more than hiring practices.
While one section or unit may have lead responsibility, it is also recommended that you form a GBA Plus intra-departmental working group with diverse representatives from across the organization, which would be able to influence decisions in numerous sectors.
A GBA Plus champion in senior management should be identified to convey key commitments across the organization, provide updates on GBA Plus to senior management, and to be the spokesperson for initiatives and results.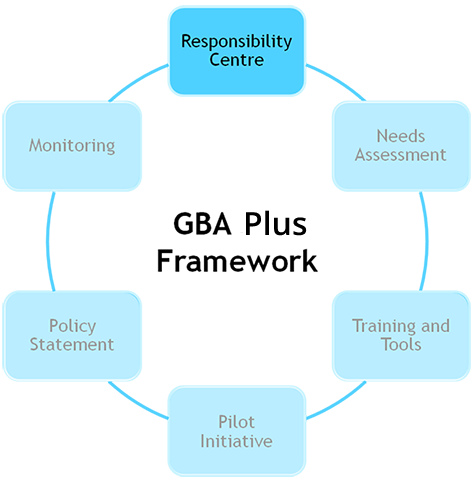 Case Study: GBA Plus framework in a public security organization

Case Study: GBA Plus framework in a public security organization

2 - Responsibility Centre

The Rockford Police Department has identified the Planning, Performance and Analytics Division (PPAD) as the lead Responsibility Centre for GBA Plus framework implementation. The PPAD is situated in the Office of the Chief Directorate, which has a broad reach across the Department.

A GBA Plus working group has also been formed. Members represent each of the eight directorates, all with influence in their respective areas. As well, consideration was given to cultural, age, and gender diversity, as well as length of service, with emphasis on the inclusion of front-line officers.

Supt. Flint, Director General, Criminal Investigations Directorate, has been identified as the GBA Plus champion. He heads a section in which a lack of diversity has been consistently identified, and where gender and diversity analysis have not normally been considered. Additionally, Supt. Flint has recently taken GBA Plus training at the local police college, and has demonstrated influence both inside the department and in the community.