Message from the Minister for Women and Gender Equality and Youth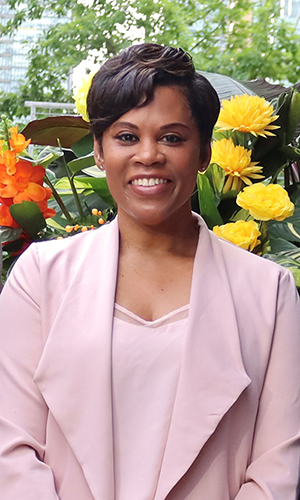 When I ran for office, I made a commitment to amplifying the voices of diverse communities – no matter what their background was, where they were from, or who they love. Taking the time to listen and honour the lived experiences of people who don't often see themselves reflected in positions of power was part of my career as a broadcast journalist and is part of my Ministerial mandate today. From Toronto's historic Gay Village to Vancouver's Davie Street, 2SLGBTQI+ communities have made a trailblazing impact in Canada and beyond. Canada's first Federal 2SLGBTQI+ Action Plan is a testament to the 2SLGBTQI+ community's resilience and grassroots activism.
This activism doesn't only belong in large cities or in gay villages. We need to keep working to make sure that every person in Canada can fully participate in all spheres of society, including all 2SLGBTQI+ communities from coast to coast to coast. To achieve this, we've collaborated and consulted with 2SLGBTQI+ organizations, stakeholders, and community leaders to improve human rights and developed inclusive federal policies, programs, and laws based on that feedback. We do this because putting lived experience first is the right thing to do.
It is well-known that 2SLGBTQI+ people continue to face significant challenges – including negative mental health impacts, underemployment, homelessness, harassment, bullying, and violence. These challenges are further amplified for people with intersecting lived experiences, including Indigenous 2SLGBTQI+ communities, Black and racialized 2SLGBTQI+ communities, and 2SLGBTQI+ people with disabilities.
This is not new news to anyone, and it is exactly why our government stepped up through concrete actions to right these wrongs.
In 2017, the Prime Minister delivered a formal apology to survivors of the LGBT Purge and LGBTQ2 communities in Canada more broadly for their historically unjust treatment. This apology helped create a foundation for healing and progress. That same year, the Government of Canada created the LGBTQ2 Secretariat to further promote equality for 2SLGBTQI+ Canadians, protect their rights, and address discrimination against them.
This plan honours and recognizes the historic and ongoing roles that 2SLGBTQI+ individuals and civil society organizations play in advocating for the rights of 2SLGBTQI+ people and in building safer and more resilient communities through decades of protest and activism. To all the community members, organizations, friends, and allies who contributed to the development of our first-ever Federal 2SLGBTQI+ Action Plan, I extend a sincere thank you.
Canada's first Federal 2SLGBTQI+ Action Plan is a powerful collaborative effort that will help chart our path toward building a more inclusive country. The very first of its kind for the Government of Canada, this Action Plan presents a suite of measures that seek to advance equity and protect hard-earned rights, while also tackling discrimination against 2SLGBTQI+ communities.
While this is a historical first, I can assure you that the work does not end here – we will continue to engage with 2SLGBTQI+ community leaders to make sure we're building a Canada for everyone.
The Honourable Marci Ien
Minister for Women and Gender Equality and Youth
Report a problem on this page
Date modified: