Youth Working Group on Gender Equality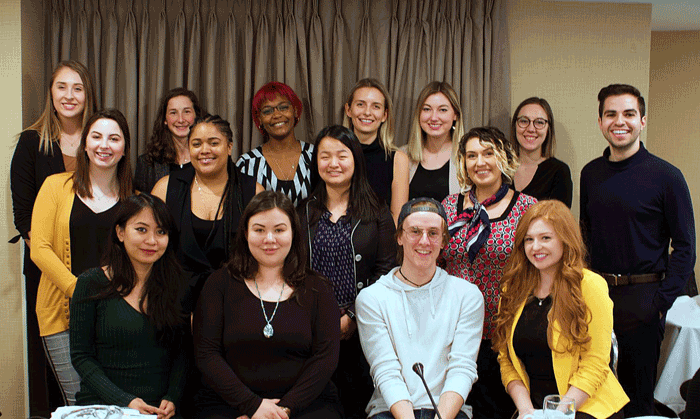 Women and Gender Equality Canada launched the initiative, National Conversations on Gender Equality with Young Canadians.
National Conversations on Gender Equality with Young Canadians expands and amplifies youth-led dialogue about behaviours and attitudes that perpetuate gender inequality, and supports action for long-term change.
As part of the Conversations on Gender Equality with Young Canadians initiative, five Indigenous organizations received funding to work with young Indigenous people across Canada and engage them on gender equality.
To spearhead the initiative, we identified youth from across Canada to form the Youth Working Group on Gender Equality (YWG). The working group is made up of young Canadians who are passionate and engaged, and who will lead initiatives to advance gender equality in Canada.
The Youth Working Group on Gender Equality's members are:
Allison Kilgour

Allison is a proven young leader from Manitoba with expertise in youth activism and gender-based violence prevention. She was a founding Director of Students for Consent Culture, a student-led gender-based violence prevention movement where she currently serves as Education Coordinator. Allison is a sought after speaker on mental health with Jack.org and is currently the Sexual Violence and Resource Specialist at the University of Manitoba. She will be starting her J.D. in September, 2019.
Amanda Kanbari

Amanda is a gender advocate and program developer from Yellowknife who works to advance gender equality for everyone in the North. She has created feminist gender-based programming that addresses gender inequality and gender-based violence in the North. Amanda's work has led her to speak on the international stage about gender inequality and the intersections of race, class, ability and how those living in rural areas within the Northwest Territories are affected by these intersections.
Brittany Grisdale

Brittany Grisdale is a young Indigenous woman from Treaty 1 territory, Brokenhead Ojibway Nation in Manitoba. She coordinates a non-profit day program for adults with diagnosed and undiagnosed fetal alcohol spectrum disorders (FASD) and/or other cognitive disabilities. She has completed a B.A. in Conflict Resolution with a focus on restorative justice. She is currently involved with different organizations locally and nationally that focuses on strengthening and empowering our community. Brittany now sits on Manitoba Moon Voices as the youth representative, the Native Women Association of Canada as the secretary and southern youth representative and is currently developing a project with the focus on reclaiming Indigenous space with the Jane Goodall Institute of Canada. Brittany is passionate about sharing her culture and makes it her mission when travelling abroad to connect with other Indigenous communities.
Charlene Campo

Charlene is a passionate advocate for gender equality from Edmonton, Alberta. She is currently an Issues Integration Lead for the Government of Alberta, and is pursuing a Master of Arts in Gender and Social Justice at the University of Alberta. Described by her colleagues as a change agent, Charlene is fascinated with the preconditions that are necessary for sustained social change. In the past, she was a RISE Ambassador for Apathy is Boring, has served on the board of the Calgary Women's Emergency Shelter, has volunteered for front line services for the Women's Centre of Calgary, and was a contributor to the award winning Anti-Racist Organizational Change working group in Calgary.
Christina Luo

Christina is a Youth Advisor for Plan International Canada's Youth Advisory Council from Edmonton, Alberta. Christina has proven experience in designing, advising on and implementing Plan's Youth for Gender Equality initiative, Canada's first youth-led UN SDG implementation plan. She is passionate about engaging youth on their role in measuring and achieving gender equality.
Cyndia Mondésir

Cyndia is a young racialized feminist leader from Ottawa, Ontario, with a deep commitment to positive and progressive social change. She works with the Canadian Research Institute for the Advancement of Women, and the Feminist Alliance for International Action to advance gender equality research and advocacy.
Emma Ronsley

Emma is a recent law school graduate from Vancouver, British Columbia. In addition to organizing educational and extracurricular programming for at-risk youth, Emma has worked as a legal advocate in the areas of poverty law, family law, and child protection. She has experience designing and facilitating public legal education for high school students and is passionate about social justice education for youth.
Geneviève Benoit

Genevieve is a Métis youth from Winnipeg, Manitoba, who is currently attending law school at Robson Hall, University of Manitoba. She is highly engaged in her faculty and is an advocate for Indigenous rights on her campus, specifically in her role as an executive member of the Manitoba Indigenous Law Students' Association. Genevieve's engagement in her Métis community has resulted in her attending and participating in a variety of national and international conferences and events.
Guyleigh Johnson

Guyleigh is an activist, poet and author from Nova Scotia. Her two books, Expect the Unexpected and Afraid of the Dark, explore racism, gender-based violence, social isolation and mental wellbeing in the black community. She is currently a student at Dalhousie University and is working on two additional books, including a children's book on Viola Desmond.
Jenna Killam

Jenna is a Métis lawyer practicing in Calgary, Alberta. She served as a Co-Chair for the Wicihitowin Youth Circle working with urban aboriginal youth to help cultivate a cultural awareness and connection that can be difficult for off-reserve youth. She also served as a mentor for the Office of the Child and Youth Advocate's Provincial Youth Panel, wherein the panel was consulted by the federal government regarding indigenous youth and their experiences with the system. While at law school Jenna sat on the board for the Indigenous Law Students' Association, and was the President of the Canadian Lawyers Abroad chapter. She also volunteered at the walk-in legal clinic, working for impoverished minorities in a variety of areas of law. Jenna is currently a steering committee member for the Congress of Aboriginal Peoples National Youth Council where she is a passionate advocate for the rights of off-reserve indigenous youth.
Jonathon Reed

Jonathon is a dedicated youth leader from Ontario who specializes in adventure-based programming centered on boyhood masculinity. Jonathan coordinates school-based programs on positive masculinities for youth with Next Gen Men and hosts a podcast called Breaking the Boy Code. Additionally, he is a noted speaker and advocate on gender equality and LGBTQ2+ issues.
Katie Davey

Katie Davey self-identifies as an inclusive policy advocate. She has held a number of policy and stakeholder engagement roles with a specialized focus on gender equality and youth engagement. She attributes her time as President of the University of New Brunswick Student Union as the foundation for her work. Recently, Katie launched Femme Wonk – a policy and current affairs podcast that discusses public policy through a gender and inclusion lens.
Phaedra de Saint Rome

Phaedra is an entrepreneur, activist and community builder from Quebec. A graduate of McGill University with a mini-MBA from Stanford, she has been involved with a variety of grassroots and international organizations that focus on community engagement, climate action and women's empowerment, and was previously named a Global Shaper by the World Economic Forum. Phaedra recently founded So What Media Inc., a new-era media company that aims to make current affairs more engaging while also empowering young women in Canada and abroad.
Raylene MacKey

Raylene Mackey is a passionate youth advocate from St. John's, Newfoundland, and Labrador, who specializes in empowering women in leadership. Raylene currently serves as an Assistant and Aide-de-Camp to the Lieutenant Governor of NL and the Co-Chair of the Premier's Youth Council. Additionally, Raylene is a radio personality on VOCM Radio. She is a former Page of the NL House of Assembly and a former Miss Teen NL. Raylene is an active volunteer and has received a Government URock Volunteer Award, a provincial Loran Award, and the Governor General of Canada Sovereign Medal for Volunteers. She most recently graduated with a Bachelor of Arts in political science (co-op) and law and society from Memorial University of Newfoundland. Raylene will begin her master's degree in the fall and aspires to attend law school in the future.
Reese Estwick

Reese is an LGBTQ2 advocate and leader from Manitoba who started the first Gender Sexual Alliance in her school division, organized and led Pride Week in her school every year, and has been advocating to her school administration and school board to initiate a safe space for LGBTQ2 youth in schools. Additionally, she advocates for teachers to get LGBTQ2 ally training and recently mobilized over 50 students to create a video to raise awareness on Down syndrome.
Richelle Ritchie

Richelle is youth leader from Saugeen First Nation #29 who is passionate about advocacy, particularly with regards to children and youth. She is currently completing her Master's of Social Work at Wilfrid Laurier University, while volunteering on the Independent First Nations Youth Working Group, and the Ontario First Nations Youth Peoples Council. Richelle now sits on the Assembly of First Nations National Youth Council as the Ontario Female Representative.
Roshni Khemraj

Roshni is a youth leader from Ontario who is passionate about gender equality with a particular interest in grassroots organizing. She is currently entering her second year at Osgoode Hall Law School and is working in the Immigration Division of Parkdale Community Legal Services. Passionate about identifying new and creative ways to engage young people in areas of campaigning and activism, Roshni sits on Amnesty International's National Youth Action and Advisory Committee, and she is a public speaker and Youth Advisory Council member with Plan International Canada. Additionally, Roshni was an inaugural participant in the Girls Belong Here initiative having taken over the role of Plan's CEO on International Day of the Girl 2016.
Shyla Elgie

Shyla Elgie is a Cree woman from the Fort McKay Nation in Northern Alberta, who resides in Prince George, B.C. Shyla currently works with The Exploration Place (non-profit organization) as a First Nations Curatorial Assistant. She has been involved with the Friendship Centre movement her whole life; in roles as volunteer and as an employee. Shyla has served on both provincial and national youth councils on behalf of the Friendship Centre movement. Shyla is involved with the Provincial Aboriginal Youth Council (PAYC) through the BC Association of Aboriginal Friendship Centres (BCAAFC) and serves as the Youth Executive on the board of directors for the BCAAFC and PAYC. She is currently working towards her degree in First Nations studies. Shyla has a strong passion and dedication for Indigenous youth and the rights of Indigenous women; that is evident in the work she conducts in her home community.
Stormy Bradley

Stormy is a young Indigenous woman, a single mother, and an active member of her community, the Tr'ondëk Hwëch'in First Nation, in Yukon. Over the past two years, Stormy has been working alongside other Indigenous youth leaders to end violence against women in their communities through a project called Shared Wisdom, VIDEA.
Taya Nabuurs

Taya is a youth leader from Prince Edward Island who is passionate about civic engagement and eliminating gender-based violence. She has served as Vice-President (Academic & External) of the UPEI Student Union, a member of the PEI Youth Futures Council, on the Premier's Action Committee on Family Violence Prevention, and was on the Board of Directors of the PEI Coalition for Women in Government. Taya was also a founding member of the UPEI Chapter of Our Turn, a national student-led movement aimed at eliminating sexual violence on university campuses.
Tommy Hana

Tommy is a sexual and reproductive health rights advocate from Toronto who is passionate about global health. He is a medical student from the University of Toronto and completed his undergraduate studies at Queen's University as a Loran Scholar. He is currently a Remote Research Assistant at the Pamoja Tunaweza Women's Centre in Tanzania, a research assistant at the Centre for Global Health Research, Women's College Hospital and Mount Sinai Hospital. His research focuses on adolescent contraception programs in low resource settings, access to maternal care and maternal mortality in India, publicly-funded transition-related surgery programs, and medical education. Additionally, Tommy is a consultant for the World Health Organization (Gender Equality and Human Rights), and has worked for KPMG and Doctors of the World UK. He recently represented the International Federation of Medical Students Associations at the UNCSW 63.
Report a problem on this page
Date modified: