Women Deliver 2019 Conference
On this page
About the Women Deliver 2019 Conference
As you may have heard, Canada just hosted the Women Deliver 2019 Conference, the world's largest gathering on the health, rights and well-being of women and girls.
From June 3 to 6, 2019, more than 8,000 people from more than 165 countries gathered in Vancouver, British Columbia with a common goal: building a more inclusive and equal world where every single person—no matter who they are or where they live, no matter their gender identity, expression or sexual orientation—has an equal and fair chance at success.
And the world really was in Vancouver: thousands of organizations and young people, hundreds of journalists and people representing private sector industries, UN agencies, ministers and parliamentarians from more than 50 countries, as well as gender equality advocates and mobilizers from all Canadian provinces and territories.
But Women Deliver 2019 was not just one moment in time. It was another important step forward in a movement for gender equality that exists throughout the world—a movement of change for everyone, everywhere. A movement that Canada and Canadians are leading.
Game-changing investments in gender equality
At the conference, the Government of Canada made game-changing and innovative investments that promote the empowerment of women and girls and people of all gender identities and expressions:
Launching a $325‑million call for proposals for projects that address reproductive, maternal, newborn, child and adolescent health, including SRHR and nutrition in vulnerable communities around the world.
Providing up to $750,000 to build on the findings of the Feminists Deliver conference and drive real progress for women in British Columbia by promoting a feminist approach that targets the most marginalized communities.
Enhancing its investment in the first-ever Women's Entrepreneurship Strategy, which aims to double the number of women entrepreneurs in Canada by 2025.
Investing $10 million in national cervical cancer research, which will be matched by the BC Women's Health Foundation, recognizing that cervical cancer rates for Indigenous women are 92% higher than non-Indigenous women.
Canada also announced new and innovative steps to transform how we invest in women's organizations and movements. Women's organizations are on the frontlines of action on issues ranging from economic development to reproductive health to violence, and yet, they are also chronically underfunded and undervalued. That's why Canada is working to make sure they can keep doing their vital work that benefits people in all communities, regardless of federal funding cycles: 
These are bold, innovative initiatives that have tremendous potential to change our world for the better and make Canada a global leader in supporting women's rights organizations domestically and internationally.
Raising marginalized voices
During the Women Deliver 2019 Conference, attention was focused on issues that affect women and girls in Canada and globally.
We looked unflinchingly and bravely at some of the challenges we have yet to overcome. In the days leading up to the Women Deliver 2019 Conference, the Government of Canada supported two events happening concurrently with the conference: Feminists Deliver and the Nutsamaht Indigenous Women's Pre-Conference. Both events were designed to shine a light on local, grassroots efforts to address intersectional challenges to gender equality. This was particularly relevant as, in the days leading up to the conference, the National Inquiry into Missing and Murdered Indigenous Women and Girls presented its final report to the Government of Canada.
All of these initiatives set the tone for the Women Deliver 2019 Conference: to ensure that everyone, including Indigenous women and girls, visible minorities, and LGBTQ and two-spirit people, were at the forefront of conversations about advancing gender equality in Canada and around the globe.
Cultural diversity is our strength
We also celebrated our diversity and our many successes. Women Deliver 2019 Mobilization Canada hosted its Culture Night in the middle of the week to celebrate and demonstrate the vibrancy, multiculturalism, and creative energy of Vancouver. The event was facilitated by the Canadian Partnership for Women and Children's Health, which also ran a satellite event, called the Longhouse Dialogues, where delegates could learn about the history of Indigenous people in British Columbia from local, young Indigenous women.
Building a legacy
We took strength from each other, learned from each other, stood up for each other and inspired each other to be and do better. We fueled vital conversations: the #GenderEqualityMatters hashtag, for example, was used 24,495 times and had a reach of 67.5 million.
That is tremendous momentum—built because of Canada's leadership and because of the passion, commitment and dedication of Canada's partners. Because of you.
The Women Deliver 2019 Conference was a watershed moment for the gender equality movement around the world. Here at home, investments made by the Government of Canada and other Canadian partners will leave a lasting legacy of action and change for women, girls and gender diverse peoples from coast to coast to coast.
But our work is far from done. Together, we must keep building on the energy we created at the Women Deliver 2019 Conference and ensure we continue this legacy of empowerment and change that will benefit us all.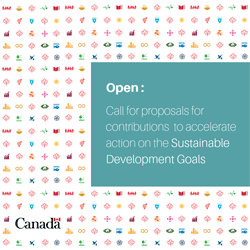 A new Sustainable Development Goals (SDGs) call for proposals is looking to support partners that are helping to advance the 2030 Agenda. If your organization is advancing research, innovating, sharing knowledge and reporting on the SDGs, this call is for you! Learn more and apply.
Funding announcements
News Release: Innovative cross-sector partnerships to advance gender equality.
News Release: Funding to support and engage local women's organizations in British Columbia
News Release: Women and gender equality partnerships announcements at Women Deliver.
Frequently asked questions
Why is the Government of Canada investing in these initiatives?

For decades, women's organizations have been asking for long-term, sustainable funding options to grow and maintain their capacity. The Government of Canada listened, and is entering into new matched funding initiatives with national organizations.
By securing 1:1 fundraising commitments from these three national organizations, the up to $30 million investment from the Government of Canada will translate into up to $60 million of available funds to women's organizations, creating a long-term, sustainable funding legacy to accelerate gender equality in Canada beyond federal funding cycles.
The commitments from Community Foundations Canada, Canadian Women's Foundation, and Grand Challenges Canada are targeting current federal funding gaps, including diverse communities, cultures and generations, such as Indigenous women innovators, rural, remote and northern communities, minority communities, seniors and youth.

How will the Department for Women and Gender Equality fund these initiatives?

The up to $10 million agreements with each of these three organizations will be funded through the Department for Women and Gender Equality's Women's Program. In Budget 2019, the Government of Canada proposed an additional $160 million over five years to the Women's Program. This investment means that by 2023/24, Women's Program funding will reach $100M annually.

What are the selection criteria to become a funding partner?

The Women's Program provides funding to eligible organizations in support of projects at the local, regional and national levels that address one or more of the following three priority areas:

Ending violence against women and girls
Improving the economic security and prosperity of women and girls
Encouraging women and girls in leadership and decision-making roles

Funding is available for time-specific projects that address barriers to women's participation and equality in Canadian society.
For more information about which organizations and activities are eligible under the Women's Program, please visit our website.

How can other organizations submit partnership proposals to the Government of Canada for this funding?

The Department for Women and Gender Equality is committed to building partnerships that will achieve flexible, stable and sustainable funding for gender-equality seeking organizations across Canada. Organizations wishing to partner with the Department should contact CFC.Partenariats-Partnerships.SWC@cfc-swc.gc.ca.

How do women's organizations apply for this funding?

The selected funding partners will be responsible for granting this funding to women's organizations.
The funding partners will initiate calls for proposals, receive and review funding applications, and administer funds to project-based applications that meet prescribed funding requirements.
Calls for proposals, including complete funding requirements, will be communicated when available.
Report a problem on this page
Date modified: