Communiqué

Women and Gender Equality Newsletter
International Development and Gender Equality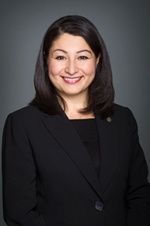 On March 1, 2019, the Honourable Maryam Monsef, Minister for Women and Gender Equality, was given the additional responsibility and privilege of being appointed Minister of International Development.
In this role, the Minister will lead Canada's efforts to provide international assistance to help reduce poverty and inequality in the world, in particular through the implementation of Canada's Feminist International Assistance Policy, which recognizes that supporting gender equality and the empowerment of women and girls is the best way to build a more peaceful, more inclusive and more prosperous world.
Through both Cabinet portfolios, the Minister is ideally positioned to champion Canada's Feminist International Assistance Policy and the values of inclusive and accountable governance, peaceful pluralism, respect for diversity, human rights, and gender equality. From June 3 to 6, 2019, Canada will host the Women Deliver 2019 Conference in Vancouver, British Columbia. It is the world's largest gathering on the health, right and well-being of women and girls, and a great opportunity for Canada to engage its citizens and global partners on how to make gender equality a reality for everyone, everywhere.
Budget 2019
Since 2015, the Government of Canada has focused on strengthening and growing the middle class, and offering real help to people working hard to join it. This plan is working: since November 2015, more than 900,000 new jobs have been created and more than 825,000 Canadians have been lifted out of poverty.
Budget 2019 is the next step in the Government's plan to make sure middle class Canadians benefit from Canada's economic growth. That includes helping more Canadians find an affordable home, prepare for good, well-paying jobs, retire with confidence and afford the prescription drugs they need.
Budget 2019 also makes an historic investment in women's organizations via the Women's Program, announcing $160M over 5 years, and bringing the investment in women's organizations to $100M a year by 2023-24. 
Many of the initiatives in the Budget are designed to contribute supporting women's economic participation, leadership, access to justice, and freedom from violence. A dedicated chapter in the Budget details the impact of gender budgeting and shows our gender results framework. 
Read more about how Budget 2019 supports women, girls, and LGBTQ2 individuals.
Government of Canada makes historic investment in women's movement
On March 8, 2019, the Government of Canada celebrated International Women's Day by announcing investments in more than 250 women's and Indigenous organizations across Canada, which will receive funding to ensure they can continue providing essential supports to women and their families under the Capacity-building Fund. The fund stems from Budget 2018's announcement of $100 million over five years to support a viable and sustainable women's movement across Canada.
The Department for Women and Gender Equality works to advance equality for women and girls in Canada. Two of the ways it does this is through the Women's Program and the Gender-Based Violence Program.
Women's organizations provide vital services to our communities, supporting women and girls to be financially secure, free from violence, and able to fully participate in all aspects of our economy and society. Yet for far too long they have been chronically underfunded, underestimated and undermined. The Government of Canada recognizes that women's organizations are the lifeblood of the women's movement and that maintaining and growing their ability to do this important work is the most effective way to advance gender equality.
Gender equality: an economic driver
Minister Monsef addresses the Economic Club of Canada
In January 2019, the Honourable Maryam Monsef addressed Canada's national podium of record: the Economic Club of Canada. During this address, the Minister highlighted the many concrete ways gender equality can and will strengthen the Canadian economy—including a significant boost of up to $150 billion to our GDP by 2026.
Gender equality is widely recognized by policy experts and economists around the world as a critical component to any healthy society. In fact, gender equality is itself an economic driver. As the Minister mentioned during her remarks, promoting gender equality in Canada isn't just the right thing to do; it's the smart thing to do.
Evidence shows that advancing gender equality benefits everyone; it can be the solution to reducing labour shortages, making better quality decisions, and creating stronger bottom lines. In case you missed it, you can catch the Minister's address to the Economic Club of Canada on Facebook.
Featured news
Report a problem on this page
Date modified: