The Gender-Based Violence Strategy
On this page
What is the federal strategy to end gender-based violence?
Announced in June 2017, It's Time: Canada's Strategy to Prevent and Address Gender-Based Violence (the Strategy) is the Government of Canada's response to gender-based violence (GBV). It builds on current federal initiatives, coordinates existing programs and lays the foundation for greater action on GBV.
The Strategy's initiatives are organized across three pillars:
Preventing gender-based violence
Supporting survivors and their families
Promoting responsive legal and justice systems 
The Strategy will fill gaps in supports for diverse populations, including: women and girls; Indigenous women and girls; LGBTQ2 (Lesbian, Gay, Bisexual, Transgender, Queer, Two-Spirit) and gender diverse individuals; women living in Northern, rural, and remote communities; women and girls with disabilities; immigrant and refugee women; children and youth; and senior women. 
Budgets 2017 and 2018 provided over $200 million starting in 2017-18 until 2022-23 and over $40 million per year ongoing to establish, launch, and expand the Strategy; including the creation of the GBV, housed within Women and Gender Equality Canada (WAGE). 
The GBV's online platform was launched in December 2018 and brings together program and research evidence and resources to enable evidence-based action on GBV. It compiles resources and research into a single platform providing information on federal funding opportunities related to GBV and searchable databases that bring together existing data, evidence, and federal initiatives on GBV. The platform also includes key information and initiatives in provinces and territories, as well as information on resources available for those affected by GBV.
The Strategy is a whole-of-government approach to ending GBV. The Strategy encompasses all federal initiatives to prevent and address GBV; however, six federal departments and agencies received funding for specific initiatives:
Women and Gender Equality Canada (WAGE)
Public Health Agency of Canada (PHAC)
Public Safety Canada (PS)
Department of National Defence (DND)
Royal Canadian Mounted Police (RCMP)
Immigration, Refugees and Citizenship Canada (IRCC)
Initiatives funded through the Strategy
Pillar 1: Preventing gender-based violence
Pillar
Initiative and federal organization
Funding and budget year
Pillar 1: Preventing gender-based violence

National Youth Awareness Strategy on Gender-Based Violence (WAGE)

$5.7 million for five (5) years; $1.3 million per year ongoing (Budget 2017)

Awareness of online child sexual exploitation (PS)

$1 million for five (5) years; $0.3 million per year ongoing (Budget 2017)

Developing and testing innovative practices in parenting support programs to prevent child maltreatment (PHAC)

$6 million for five (5) years; $1.3 million per year ongoing (Budget 2017)

Developing and testing innovative practices in youth/teen dating violence prevention (PHAC)

$3.5 million for five (5)  years; $0.7 million per year ongoing (Budget 2017)
$26.7 million for five (5) years; $6.2 million per year ongoing (Budget 2018)

Preventing bullying and cyberbullying (PS)

$4 million for five (5) years; $1 million per year ongoing (Budget 2018)

Developing a Framework to address gender-based violence in post-secondary institutions (WAGE)

$5.4 million for five(5) years (Budget 2018)

Pillar 2: Supporting survivors and their families

GBV Program: Identify, pilot and adapt interventions to address gaps in supports for Indigenous and underserved groups of survivors in Canada (WAGE)

$29.4 million for five(5) years; $6.2 million per year ongoing (Budget 2017)
$25.6 million for five (5) years; $6 million per year ongoing (Budget 2018)

Support for the Canadian Centre for Child Protection (PS)

$5 million for five (5) years; $1 million per year ongoing (Budget 2017)

Enhance Family Crisis Teams (DND)

$4 million for five (5) years; $0.8 million per year ongoing (Budget 2017)

Enhance Settlement Program (IRCC)

$1.5 million for five (5) years (Budget 2017)

Training health and allied professions (PHAC)

$4.5 million for five (5) years; $1 million per year ongoing (Budget 2018)

Support to Sexual Assault Centres near Canadian Armed Forces Bases & Wings (DND)

$2 million for five (5) years (Budget 2018)

Pillar 3: Promoting Responsive Legal and Justice Systems

Cultural Competency Training for RCMP employees (RCMP)

$2.4 million for five (5) years; $0.6 million per year ongoing (Budget 2017)

Enhance capacity to combat online child sexual exploitation and transnational child sex offenders (RCMP)

$19.3 million for five (5) years; $5.8 million per year ongoing (Budget 2018)

Support for the Sexual Assault Review Team and Victim Support Action Plan (RCMP)

$10 million for five (5) years (Budget 2018)

Gender-Based Violence

Lead and coordinate the Strategy
Develop multifaceted approaches to knowledge mobilization
Report on the Strategy's progress and results
Create and manage the GBV's online platform

$12.3 million for five (5) years; $2.5 million per year ongoing (Budget 2017)

 

Undertake data collection and research in priority areas

$30.1 million for five (5) years; $6 million per year ongoing (Budget 2017)
Annual reports
The Minister's Advisory Council on Gender-Based Violence
The Advisory Council on Gender-Based Violence advises the Minister for Women and Gender Equality and Rural Economic Development on matters related to gender-based violence, including on:
developing a National Action Plan to end gender-based violence
responding meaningfully to the impacts of the COVID-19 pandemic
supporting alignment with national efforts to end violence against Indigenous women and girls
identifying gaps, issues and challenges at the national, regional and local levels, including in rural and remote communities
The advisory council serves as a forum to exchange views, promising practices and research on issues related to gender-based violence. The members of the advisory council come from a broad range of sectors and includes survivors, community leaders, academics, youth, and representatives of organizations that address gender-based violence. They have been selected to provide evidence-informed advice on promising practices and lessons learned, challenges and opportunities related to preventing and addressing gender-based violence. They will also speak to the particular barriers facing diverse groups such as Indigenous women and girls, young women and girls, LGBTQ2 and gender-diverse people, newcomer and migrant women and girls, and women and girls with disabilities.
Members
Read their biographies to learn more about the members of the advisory council and their areas of expertise.
Tod Augusta-Scott, Executive Director, Bridges Institute

Mr. Augusta-Scott, MSW (Master of Social Work), is known internationally for his work with domestic violence, restorative justice and narrative therapy. Since 1994 he has been the coordinator of Bridges, a domestic violence counselling, research and training institute. He has taught in the Social Work Department at Dalhousie University and worked as a restorative justice clinical supervisor for the Nova Scotia Human Rights Commission. He works with the Canadian Armed Forces. Mr. Augusta-Scott publishes and gives presentations both within Canada and abroad. His group manual for working with men who abuse has been officially adopted by three government departments in New Brunswick, Newfoundland and Labrador and the Northwest Territories. He was awarded the Distinguished Service Award from the Canadian Association of Social Workers in 2013. He is currently working on a documentary on domestic violence and restorative justice entitled A Better Man.
Bonnie Brayton, National Executive Director, DisAbled Women's Network Canada (DAWN)

A recognized leader in both the feminist and disability movements, Bonnie Brayton has been the National Executive Director of the DisAbled Women's Network (DAWN) Canada since May 2007. In this role, she has proven herself as a formidable advocate for women with disabilities here in Canada and internationally. During her tenure with DAWN Canada, Ms. Brayton has worked diligently to highlight key issues that impact the lives of women and girls with disabilities. From 2016 to 2019, Ms. Brayton served as a member of Minister's Advisory Council on Gender-Based Violence (WAGE) and was reappointed to a two year term. Earlier in 2020, Bonnie was appointed by The Honourable Carla Qualtrough to COVID-19 Disability Advisory Group (CDAG) and will continue to serve as part of the DAG.

Ms. Brayton also presents regularly to Parliamentary and Senate Committees, public consultations and has represented women and girls with disabilities in both Canadian and International spheres. Bonnie is well known in the disability and women's communities equally as a coalition builder.

Bonnie is regularly sought after as a key note presenter, panelist and lecturer. Her blogs are published through Huff Post Canada and Rabble and Bonnie is considered a leading expert in Canada on Gender and Disability. Bonnie has also contributed to several anthologies including A Bold Vision and Living The Edges, a DisAbled Women's Reader and the newest release from Inana publications Still Living The Edges (release Fall 2020).

Ms. Brayton served as the Chair of Coup de Balai, an innovative social enterprise which provides home care services to people with disabilities and seniors in her Montreal community. Ms. Brayton is also a founding member of the Ending Violence Association of Canada and served on the Steering Committee of La Maison Parent-Roback, a Quebec feminist collective in Montreal from 2008 to 2015. Ms. Brayton was recently appointed to the Advisory Committee for the Jarislowsky Chair in Families and Work at Live Work Well Research Centre at the University of Guelph. She is also the Partner Liaison for a seven-year initiative based at the University of Guelph called "Engendering Disability-Inclusive Development" (EDID) funded by the Social Sciences and Humanities Research Council (SSHRC).

Ms. Brayton lives in Montreal with her partner Delmar Medford. She has two adult daughters, Leah and Virginia.
Jade Byard Peek, Director of Advocacy and Community Care Kind Space, Ottawa, Associate Consultant, Wisdom2Action

Taliaq, lnu'wi'tm! Jade Byard Peek is a 25 year old African Nova Scotian and Lnu curator, educator and community advocate originally from Halifax, Nova Scotia. She is the Director of Advocacy and Community Care at Kind Space in Ottawa, and is an Associate Consultant for Wisdom2Action. Since studying her BA in Art History at NSCAD (Nova Scotia College of Art & Design) University, Jade has presented seminars and addresses at several conferences and universities across Canada; focusing on African Nova Scotian and Indigenous Methodologies, Epistemologies and Intersectional Praxis.

Jade's work has spanned working with the Canadian Standard Association for the development of a Psychological Health and Safety for Post-Secondary Students Standard; to leading and co-developing a tool-kit for combating anti-Black racism for student unions during her tenure as Deputy Chairperson for the Canadian Federation of Students. Jade strives to create a gentle, pragmatic, but rigorous point of entry to anti-oppression, intersectional research and paths to solutions through workshops, seminars, hubs or curatorial endeavors such as Black Lit; Trans-Fest, We are the Griots, and BIPOC BUS (Black, Indigenous and People of Color Business).
Léonie Couture, Founder and Director, Herstreet/

La rue des Femmes

Driven by a humanist and feminist vision, Léonie Couture, C.M., C.Q., founded Herstreet/La rue des Femmes in 1994 to provide safety and care to homeless women and survivors of violence and severe trauma. Unique and efficient, her care program essentially focuses on relational health, the vital ability to feel safe and connected to oneself and others. Léonie Couture, whose work is gaining increasing recognition, pioneered the relational health concept, a part of human health to the same extent as physical and mental health, as she has demonstrated every day for the past 25 years.
Anuradha Dugal, Senior Director of Community Initiatives and Policy, Canadian Women's Foundation

Anuradha Dugal is Senior Director of Community Initiatives and Policy at Canadian Women's Foundation and has worked there since 2008. She was previously Board Member (2002 to 2007) and Chair of the Violence Prevention Committee. Prior to joining the Foundation, Anuradha worked in youth violence prevention programs in Quebec and on the World March of Women, a transnational grassroots initiative launched by the Federation des femmes du Quebec. She is currently responsible for national strategies related to government relations, and public policy focused particularly on gender-based violence and equity. While she continues to be involved in grant making, knowledge mobilization, program enhancement, convening, and coalition building, her main area of focus is currently working on addressing policy issues that will bring about systemic change for women and girls in Canada. Anuradha is very involved in social justice issues and she is President of the Conseil des Montrealaises, appointed by the municipal council of Montreal.
Kara Gillies, Member, Canadian Alliance for Sex Work Law Reform; Board Member, National Abortion Federation (Canada)

Kara Gillies has been a national and global advocate for sex workers' rights for thirty years. She has a particular interest in the impact of criminalization and public policy on GBV experienced by women and gender diverse people working in the sex trade. Currently, she provides policy advice to the Canadian Alliance for Sex Work Law Reform. The Alliance is a coalition of thirty organizations across Canada working together to advance laws and policies that support the rights, health and safety of people who sell or trade sex. Kara also works in sexual and reproductive health and rights and is committed to intersectional anti-racist and anti-carceral frameworks. In January 2021, Kara assumes the role of Executive Director at Action Canada for Sexual Health and Rights.
Lucille Harper, Former Executive Director, Antigonish Women's Resource Centre

Lucille Harper is a long-time advocate for social and economic equity and justice for women, and for peace and justice in the world. Living in rural Nova Scotia, she is passionate about sustaining rural communities and helping them thrive. She understands women to be pivotal in this struggle. As the former Executive Director of the Antigonish Women's Resource Centre and Sexual Assault Services Association since 1988, she worked tirelessly on issues related to women's poverty, violence, social exclusion, health, education and training. In Antigonish, she has been instrumental in establishing support services as well as awareness and prevention programs which include a Sexual Assault Nurse Examiner Program, Sexual Assault Response Team, school-based Healthy Relationships Program, the Antigonish Poverty Reduction Coalition, and a women's health centre.

She has worked with her community and with organizations across Nova Scotia to improve the economic, social and political situation of women, has helped to found many key social justice advocacy organizations. She has participated in government committees and consultations addressing domestic violence, sexual violence, women's health, and poverty. She currently chairs Syria-Antigonish Families Embrace (SAFE) Society, a Settlement Agreement Holder and re-settlement support organization that sponsors and supports the sponsorship of refugee families wanting to settle in Antigonish and the surrounding area.

Living in a rural area and working in a small town, she has come to understand some of the particular challenges facing women and families experiencing gender-based violence and/or living with poverty and with various forms of exclusion in rural, under-serviced, declining communities. She has a long-standing interest in providing a voice to the increased complexity in addressing the challenges that face women and girls living in rural communities. She advocates for broad-based policy change to create a world where all are valued, cared for and able to thrive.
Lisa Kelly, Director, Women's Department, Unifor

Lisa Kelly is the Director of the Women's Department at Unifor, Canada's largest private sector union with over 315,000 members. She is a lifelong advocate for gender equality. Lisa is a lawyer who worked previously as in-house counsel to the Canadian Auto Workers Union (CAW) for over 20 years as well as their National Director of Education. Lisa is a frequent speaker on topics such as women and the labour movement in Canada, gender-based harassment, and LGBTQ rights in the workplace. She is proud of her international work including her work on the Women's Advocate program with the International Transport Workers Federation and her work at the International Labour Organization deliberations on Convention 190 addressing harassment and violence in the world of work. Lisa holds a B.A. and an LL.B. from Queen's University graduating with six academic and non-academic awards including the A.E. MacRae Award in Creative Leadership.
Farrah Khan, Manager Consent Comes First, the Office of Sexual Violence Support and Education, Ryerson University.

Farrah Safia Khan has spent two decades raising awareness about the intersections of gender-based violence and equity through education, policy, art creation and advocacy. She is the founder of Possibility Seeds, member of the Government of Canada's Advisory Council on the Strategy to Prevent and Address Gender-Based Violence, board member of Girl Guides of Canada and former co-chair of the Ontario Government Provincial Roundtable on Violence Against Women. Currently, Farrah works at Ryerson University as the Manager of Consent Comes First, Office of Sexual Violence Support and Education where she supports community members affected by sexual violence, leads campus-wide educational programming and aids in shaping campus policy and procedures. In addition, Farrah is the co-founder of innovative community projects including femifesto's Use The Right Words: Media Reporting on Sexual Violence and co-director of Courage to Act, the first national project of its kind to address and prevent gender-based violence on post-secondary campuses in Canada. She regularly contributes to national media with her expertise in addressing gender-based violence and is the recipient of numerous awards including the Toronto Community Foundation's Vital People Award. In 2018 Farrah was appointed to the Gender Equality Advisory Council for the G7 Summit. At the Summit, Farrah addressed an audience of world leaders insisting that any discussion about a thriving, sustainable and peaceful world is not possible without taking concrete action on gender equity.
Allison Kilgour, Youth Gender Equality & Campus Sexual Violence Advocate

Allison Kilgour was born and raised in Winnipeg, Manitoba and is a second year student at the Robson Hall Faculty of Law. She is a co-founder and advocacy coordinator of Student's for Consent Culture Canada (SFCC), a national student led not-for-profit working to end campus sexual violence. Through her work with SFCC, Allison has assisted student groups and organizations across the country in policy development, consent and anti-violence education, and advocacy initiatives. She has organized national and provincial campaigns focusing on issues such as comprehensive sexual education curriculums and revising privacy legislation to increase transparency for survivors. She has also presented at conferences across the country on topics such as the need for increased sexual violence training for members of the judiciary, and student wellness and accessibility in post-secondary institutions. Previously, Allison served as the Vice-President Advocacy for the University of Manitoba Students' Union and as the Sexual Violence Resource Specialist at the University of Manitoba, where she focused on creating accessible campus resources and updating campus sexual violence policies. She also serves as a Co-Chair on the Department of Women and Gender Equality's Youth Working Group on Gender Equality, is a youth mental health speaker with Jack.org, and is active with feminist groups within her faculty. Her passion lies in using her personal and professional experience to help survivors of violence, and advocate for changes in our legal and social structures.
Rebecca Kudloo, President, Pauktuutit Inuit Women of Canada

Rebecca Kudloo (pronounced Kalluk) is the President of Pauktuutit Inuit Women of Canada. She is a mother, grandmother and a great-grandmother. She was born on the mainland of Baffin Island near Iglulik, Nunavut. She is fluent in Inuktitut and English both written and oral. She enjoys working with people of all ages.

She was first elected as President in 2014 and previously served on the Pauktuutit Board as Vice-President and Regional Board member for Kivalliq region in Nunavut. As President, she represents Pauktuutit on the Board of Directors of Inuit Tapiriit Kanatami and Inuit Circumpolar Council Canada.

Rebecca is also active on the international stage. She advised on the Preparatory meeting in Norway before the United Nations Declaration on the Rights of Indigenous Peoples (UNDRIP) was adopted, travelled to Greenland to discuss Inuit education, and often summoned to the United Nations in New York to discuss Canada's relationship with Inuit women.

Outside of her work with Pauktuutit, Rebecca has dedicated her life to education and providing community-based counselling for over 30 years. This included her work in Department of Education of Nunavut Government, from which she is now retired. Rebecca is also co-founder and Chair of Mianiqsijiit, a community based counselling service in Baker Lake. She also has served on many boards and councils, including Hamlet Council, National Crime Prevention Council, the Sexual Abuse Coalition of the N.W.T., the NWT Status of Women Council, where she held the position of Vice President, and Interim-President for Qulliit Nunavut Status of Women Council. 

When not representing Pauktuutit on the national stage, Rebecca likes sewing for her family and spending time with her grandkids. She likes to fish and help her family with their fall caribou harvest.
Elene Lam, Founder and Executive Director Butterfly (Asian and Migrant Sex Workers Support Network)

Elene Lam is the founder and Executive Director of Butterfly (Asian and Migrant Sex Workers Support Network) and the Migrant Sex Workers Project. She has been involved in both the gender and sex work movements, as well as migrant and labour activism for almost 20 years. She has conducted training and presentations to community members, services providers and policy markers on sex work, migration, anti-oppressive practice and human rights in more than 20 countries, including the United States, Australia, Japan, Hong Kong and Switzerland. She also submitted and presented a brief to the Standing Committee on Justice and Human Rights in Canada and the Committee on the Elimination of Discrimination Against Women of the United Nations in Geneva to advocate for the rights and safety of migrant sex workers. Elene holds a Master of Law, a Bachelor of Law and a Bachelor of Social Work. In 2014, she received a Master of Social Work from York University and is currently doing her PhD in the School of Social Work at McMaster University. She is the recipient of the Constance E. Hamilton Award for Women's Equality (City of Toronto).
Emmett Lamache, Executive Director,

Enchanté

Network

Emmett is an afab non-binary franco-Albertan queer from Treaty 6 territory, who has been actively working on creating inclusive spaces for sexual and gender diversity within the context of francophone minorities since 2016. They were a founding member of the Comité FrancoQueer de l'Ouest, for which they were the Communications Director for over a year. They are now the Executive Director of The Enchanté Network, an organization connecting and supporting 2Spirit and LGBTQ+ communities across Canada.

Emmett enjoys RuPaul's Drag Race in their spare time, which they avidly watch with their wife, Rae, and their two cats, Diego and Thibeault.
Dawn Lavell-Harvard, Ph.D, President, Ontario Native Women's Association (ONWA)

Dr. Dawn Lavell Harvard, PhD, is the current President of the Ontario Native Women's Association, having previously held the position of President of the Native Women's Association of Canada.

She is a proud member of the Wikwemikong First Nation, the first Aboriginal Trudeau Scholar, and has worked to advance the rights of Aboriginal women as the President of the Ontario Native Women's Association for 11 years.

She was co-editor of the original volume on Indigenous Mothering entitled "Until Our Hearts Are on the Ground: Aboriginal Mothering, Oppression, Resistance and Rebirth". She has also recently released a new book, along with Kim Anderson, entitled "Mothers of the Nations" and she has recently co-edited a book with Jennifer Brant entitled "Forever Loved: Exposing the Hidden Crisis of Missing and Murdered Indigenous Women and Girls in Canada".
Mélanie Lemay, Social Justice Advocate and Co-founder,

Québec contre les violences sexuelles

Driven by her passion for human rights, Mélanie Lemay is a trained art therapist who co-founded the movement, Québec contre les violences sexuelles with two friends, Kimberley Marin and Ariane Litalien. In less than a year, they achieved the impossible by helping democratize the term "rape culture" in Quebec and by influencing the Government of Quebec in its decision to explore the possibility of creating framework legislation for post-secondary institutions. In fact, their actions led the Government of Quebec to invest $44 million in fighting sexual violence in October 2016 and $23 million in combatting sexual violence on campuses in August 2017, and made sexual violence a non-partisan, priority issue given its support in civil society and the media, which she managed to create, nurture and sustain.

Following the publication of an open letter signed by every major provincial and federal political party, Ms. Lemay also helped launch a discussion on including aspects of the sexual violence concept in the "Act respecting Labour Standards," and the "Canada Labour Code." Since the #Metoo movement started in October 2017, Ms. Lemay has played a part in creating multiple awareness campaigns and organizing many events, including colloquia, conferences and benefits. She also participated in the 63rd session of the United Nations Commission on the Status of Women in 2019 (UNCSW 63) as a member of the Canadian delegation and in the inaugural international conference, #MeToo: Moving Forward, held in Reykjavik.

She created and organized a scientific colloquium entitled, "Justice à l'ère du #MoiAussi," [justice in the #MeToo era], which earned her an invitation to speak as an expert/survivor before the "Comité d'experts sur l'accompagnement des personnes victimes d'agressions sexuelles et de violence conjugale [expert panel on support for victims of sexual assault and spousal violence], created by the former Minister of Justice and Attorney General of Quebec, Sonia Lebel.
Dr. Candice Lys, Co-Founder/Executive Director FOXY (Fostering Open eXpression among Youth)

Dr. Candice Lys grew up in a very large Métis family in Fort Smith, NWT and now resides in Yellowknife. She holds a PhD in Public Health Science and is a community-based sexual and mental health researcher. She is the Co-Founder/Executive Director of FOXY (Fostering Open eXpression among Youth) and SMASH (Strength, Masculinities, and Sexual Health). FOXY and SMASH are peer-led, trauma-informed, arts-based sexual and mental health programs that use the arts to facilitate discussion, education, and healing among Northern and Indigenous youth. In 2014, FOXY was the first organization to be awarded the entire $1 million Arctic Inspiration Prize. Candice is recognized as the 53rd Ashoka Fellow from Canada and has earned the Meritorious Service Medal (Civil Division) from the Governor General of Canada for her work with FOXY and SMASH. She is a mom to a little human Luca and a rambunctious beagle named Maple.
Angela Marie MacDougall, Executive Director, Battered Women's Support Services

Through her community-based organizing, frontline work and activism over three decades, Angela Marie MacDougall has been deeply involved in movements for social justice. Since the nineties, Angela has developed training curricula from an intersectional and anti-oppression framework while her work as a trainer with community-based organizations, systems players, universities and in the larger public sphere has always emphasized the influence of a community-based response toward gender, racial, economic justice. Angela's impact includes development of empowerment and advocacy-based program and service delivery models that address gender-based violence and violence against women that are grounded in strong theoretical frameworks that include feminist trauma-informed analysis that integrate the role substance use and mental wellness. Angela Marie MacDougall has edited and/or written ten manuals on addressing gender-based violence and violence against women from an intersectional anti-oppression feminist framework and has spoken to hundreds of groups throughout Canada, the United States and in China. An ever present theme and focus of her work has been the range of social inequities and environmental problems associated with colonialization and the generalized criminalization of communities of colour that are most affected by poverty and racial discrimination. Her work grows directly from her own experiences as a bi-racial Black woman who grew up amongst violent racist misogyny both at home, at school and in the larger community. Her parents met in the Black community known as Hogan's Alley that in the seventies was razed by Vancouver City Hall, so her work grows directly from her own experiences as a bi-racial Black woman who grew up amongst violent racist misogyny both at home, at school and in the larger community and she became politicized to end violence against women after her high school friend was raped and murdered while on a date. She credits the birth of her daughter as a galvanizing event. She also has conducted extensive participatory action research on numerous aspects relating to gender, race and violence. Angela Marie MacDougall is a founding member of Feminists Deliver, a provincial organization dedicated to shedding a light on the urgent issues facing marginalized communities in British Columbia and the grassroots struggles leading the way for transformative change while building transnational connections between grassroots intersectional feminist movements; and re-envisioning the global women's agenda as one that centers a diversity of grassroots intersectional feminist voices. She is a long standing member of Vancouver's February 14th Women's Memorial March, the first women's memorial march held since 1992 in response to the murder of a woman in the Vancouver neighbourhood named the Downtown Eastside. Angela is founding member of Intersectional Feminist Justice Research and Organizing Collaborative bringing together researchers, academics, data and policy analysts, students and community organizers to provide critical research, data, policy and strategic support for the ending violence, gender equity and social justice movements. Ms. MacDougall was named a Remarkable Woman by the City of Vancouver and Vancouver Magazine named her one of Vancouver's most powerful people.
Nneka MacGregor, Co-Founder and Executive Director WomenatthecentrE, International Speaker, Co-Host of 'What's Your Safe Word?' podcast

Nneka MacGregor is the co-founder and Executive Director of the Women's Centre for Social Justice, better known as WomenatthecentrE, a unique non-profit organisation created by and for women and trans survivors of gender-based violence globally. She is also co-host of the engaging podcast: 'What's Your Safe Word?'

Nneka is an advocate who works with governments, organisations and individuals to transform lives and build violence-free communities. She is a returning member of the Advisory Council. An international speaker and trainer, she has developed and facilitated training to various sectors, and is an Expert Advisory Panel Member of the Canadian Femicide Observatory for Justice and Accountability.

She recently became a member of the Ontario Domestic Violence Death Review Committee. Her research focus is on sexual violence and on the intersection of strangulation, Traumatic Brain Injury and Inter-Personal Violence. She was a recipient of the 2019 PINK Concussions Awards and is also the recipient of the YWCA Women of Distinction 2020 award for Social Justice.

An entrepreneur with almost three decades of business experience, Nneka is the founder and Managing Partner at Nneka & Co, where she continues to support organisations develop their strategy, people, culture and community. The consultancy focuses on Stakeholder, Centric EDI ©, a unique and comprehensive framework to engage organisations in equity, diversity & inclusion work. Her expertise is on nurturing women's leadership in business at the intersection of gender, race and ability.

Nneka recently retired from the Board of Directors of Moatfield Foundation of Bayview Glen School, where she served for 11 years, six of which as Chair and CEO of the Bayview Glen Foundation. She supports other non-profits and charitable organisations with governance training and developing effective Board culture.
Harriet MacMillan, Distinguished University Professor, Department of Psychiatry and Behavioural Neurosciences, McMaster University

Harriet MacMillan is a psychiatrist and pediatrician conducting family violence research. She is a member of the Offord Centre for Child Studies, a Distinguished University Professor in the Departments of Psychiatry and Behavioural Neurosciences, and of Pediatrics at McMaster University with associate membership in the Department of Health Research Methods, Evidence, and Impact. She holds the Chedoke Health Chair in Child Psychiatry.

Harriet's research focuses on the epidemiology of violence against children and women; she has led randomized controlled trials evaluating interventions to reduce child maltreatment and intimate partner violence and associated health problems. Funding for this work has been provided by organizations such as the Canadian Institutes of Health Research (CIHR), the Brain and Behavior Research Foundation, the Centers for Disease Control and Prevention and the Public Health Agency of Canada (PHAC). Harriet works closely with organizations such as PHAC and the World Health Organization (WHO). Examples of her work with WHO include co-chairing the Guideline Development Group (GDG) for the WHO Clinical Guidelines on Responding to Children and Adolescents who have been Sexually Abused, and the GDG for the WHO Clinical Guidelines on the Health Sector Response to Child Maltreatment.

From 1993 to 2004, Harriet was the founding Director of the Child Advocacy and Assessment Program (CAAP) at McMaster Children's Hospital, a multidisciplinary team committed to reducing the burden of suffering associated with family violence. She continues to see patients as an active staff member of CAAP and provides consultations to child protection agencies.

Harriet was appointed as a member of the Order of Canada in 2016 and as an Associate Fellow in the Department of Social Policy and Intervention at the University of Oxford in 2019. 
Ruth Elwood Martin, Clinical Faculty Member, School of Population and Public Health, University of British Columbia

Dr. Ruth Elwood Martin is a recognized advocate for incarcerated women. Dr. Martin began working as a family physician in Canadian correctional facilities in 1994 and became a leader in women's prison participatory health research in Canada. Dr. Martin advocated for the infant children of incarcerated women and led the development of, 'Guidelines for the Implementation of Mother-Child Units in Canadian Correctional Facilities'. Dr. Martin initiated the formation in 2006 of the University of British Columbia's Collaborating Centre for Prison Health and Education, which nurtures university- community-prison engagement. In 2015, she received a Governor General's Award in Commemoration of the Persons Case.
Lise Martin, Executive Director, Women's Shelters Canada

Lise Martin is the founding Executive Director of Women's Shelters Canada (WSC), an organization that provides a unified voice for systemic change to end violence against women while providing leadership for collaboration and knowledge exchange among shelters and transition houses across the country. Prior to joining WSC, she was the Executive Director of Women's World 2011, an international feminist conference that hosted more than 2,000 participants from 92 countries in Ottawa in July 2011. For many years Lise was with the Canadian Research Institute for the Advancement of Women (CRIAW), first as a Research Officer and then as Executive Director. Lise is also a founding member of FAFIA, the Canadian Feminist Alliance for International Action.
Crystal Martin-Lapenskie, President, National Inuit Youth Council (NIYC), Nunavut

The NIYC President serves as the national voice for Inuit youth, sitting on the Inuit Tapiriit Kanatami (ITK) Board of Directors as a permanent participant and the Inuit-Crown Partnership Committee as an observer. Martin-Lapenskie was elected President of NIYC in 2019 and will hold the position for two years.

Martin-Lapenskie is from Sanirajak (formerly Hall Beach) and currently resides in the Ottawa Valley. She has spent her entire career pursuing in improving the lives of Inuit across Canada through development and implementation of Inuit-specific programs and services and policy advancement. She has worked extensively across the Canadian Arctic and with Inuit in Ontario. In 2017, Crystal launched Okpik Consulting, a project management firm focused on improving policies, programs and services for Inuit organizations or those working in Inuit Nunangat.
Kalin McCluskey, Executive Director, Canadian Alliance of Student Associations

Kalin McCluskey is the Executive Director of the Canadian Alliance of Student Associations (CASA), a national, non-partisan, not-for-profit student organization composed of 23 student associations from coast to coast. In her role, she works closely with a student-lead Board of Directors and leads a team of professional staff based in Ottawa. With over 15 years of experience in public policy and advocacy, she has worked with advocacy organizations nationally and internationally, and on Parliament Hill. In addition to her current work at CASA, Kalin is completing her PhD in Interdisciplinary Studies focused on aging policy at the University of New Brunswick.
Alannah McKay, National Treasurer, Canadian Federation of Students

Alannah Mckay is an Anishininew woman from Berens River First Nation, Manitoba and Muskrat Dam, Ontario, raised in Treaty One Territory. She is currently pursuing an advanced Bachelors of Arts from the University of Manitoba focusing on Indigenous Studies and Criminology and is the current National Treasurer of the Canadian Federation of Students. In her position she focuses on advocating for the reclaiming of space for Black, Indigenous, and People of Colour in post-secondary institutions. She is also one of the Student Organizers for Courage to Act.

Alannah is passionate about advocating for Indigenous rights and accessible and affordable post-secondary education. She has been active with the University of Manitoba Indigenous Students' Association, where she was the former Co-President and Director of Finance; In 2018-2019, Alannah previously served as the University of Manitoba Students' Union as the Indigenous Community Representative as well as the Canadian Federation of Students-Manitoba Treasurer.
Manon Monastesse, Executive Director, Québec Women's Shelter Network

Manon Monastesse worked in the 1990s advocating on behalf of women, particularly in child custody cases that involved situations of international parental abduction in Europe and the Middle East.

After returning to Quebec, Manon continued her work nationally and internationally, and completed a master's degree in social intervention at the University of Quebec in Montreal (UQAM) with a focus on socio-legal intervention in child custody cases involving situations of spousal violence (2003). She went on to coordinate the Table de concertation en violence conjugale et agressions à caractère sexuel [coordinating group on spousal violence and sexual violence] of Laval (Quebec) from 2003 to 2006.

Since 2006, Manon has served as the provincial director of the Fédération des maisons d'hébergement pour femmes, the Quebec women's shelter network. As director, she has been appointed to several governmental committees, including the Government of Quebec's Comité de travail sur une action concertée auprès des enfants exposés à la violence conjugale et leurs familles (2012 to 2014) [working committee on concerted action for children exposed to spousal violence and their families] and the Comité d'experts sur les homicides intrafamiliaux (2011 to 2012) [expert panel on intrafamilial homicide], and she is currently a member of the Comité d'examen des décès liés à la violence conjugale [review committee on deaths related to spousal violence] chaired by the Chief Coroner of Quebec. She has also served on various committees involved in drafting government action plans to address spousal violence.

She was co-chair of Women's Shelters Canada/Hébergement femmes Canada for many years, and also helped establish the Global Network of Women's Shelters/Réseau international des maisons d'hébergement pour femmes in 2009.
Alaa Murabit, Medical Doctor, Global Security Strategist, Women's Rights Activist and UN High-level Commissioner on Health Employment and Economic Growth

Alaa Murabit is an award-winning medical doctor, global security strategist, women's rights advocate, and United Nations High-Level Commissioner on Health, Employment & Economic Growth. She is a 2020-2021 Fellow at the Radcliffe Institute for the Advanced Study at Harvard University.

One of the leading global health and inclusive security experts of her generation, Alaa Murabit is a medical doctor, Canadian Meritorious Service Cross recipient, United Nations High-Level Commissioner on Health Employment & Economic Growth, and one of 17 Global Sustainable Development Goal Advocates appointed by the UN Secretary General. She is the 2020-2021 Fellow at the Radcliffe Institute for the Advanced Study at Harvard University.

Alaa previously founded and spearheaded The Voice of Libyan Women at the age of 21. Her TED Talk, "What My Religion Really Says About Women" has been viewed over five million times and was selected as the TED Talk of the Day and one of four moving TED Talks you should watch right now by The New York Times and one of 12 TED Talks That Define the Future of Feminism.

In 2016 she became the Executive Director of Phase Minus 1, which provides thought leadership in conflict resolution and inclusive security and has since founded CO-AGENCY, an accelerator for emerging women's leadership in security, peacebuilding, and policy.

Recently named a prestigious Harvard Radcliffe Fellow for her work "Architects of Peace: Redefining the Role of Women in Today's Growing Security Agenda", Alaa is also an MIT Media Lab Director's Fellow, Ashoka Fellow and Women Deliver International Deliver For Good Policy Influencer. Alaa also serves as a board member for The Malala Fund.

Alaa is the recipient of over 100 honours and awards, including the 2013 New York Times TrustWomen Hero, 2014 BBC Top 100 Woman, Aspen Institute Spotlight Health Scholar, 2017 Forbes 30 Under 30, 2019 WIRED World Global Thought-leader, the 2018 Nelson Mandela International Change-maker Award by The Nelson Mandela Family, and one of the 2019 Top 20 Most Influential People in Gender Equality Policy in the world alongside Ruth Bader Ginsburg, Angela Merkel, and Michelle Obama. Her leadership in global policy and in elevating the role of women, particularly young, minority women, on global platforms was recognized by Harvard Law who named her the youngest 2017 Woman Inspiring Change. For her efficacy in security, health policy, and sustainable development, she was most recently recognized as one of the 100 Most Influential Women in History by the Canadian Government and as a member of the World Economic Forum's Global Future Council on Systemic Inequalities and Social Cohesion.
Yvonne Niego, Deputy Minister of Family Services, Nunavut

Yvonne Niego was appointed Deputy Minister of Family Services in December 2017. She comes to the position with more than 25 years of experience in Nunavut's justice system. Yvonne was the first female Inuk from Nunavut to become a full regular member of the RCMP, and was also the first female Inuk from Nunavut to be promoted to Corporeal, and then Sergeant. Her extensive experience within the RCMP led to roles with the Community and Aboriginal Policing Directorate in Ottawa and as a non-commissioned officer providing oversight on community policing initiatives across Nunavut.

Over the course of her career, Yvonne has held several positions with various levels of government, including Assistant Deputy Minister of the Department of Justice, where she led work towards Nunavut's Crime Prevention Strategy, supported community justice initiatives, and efforts to end family violence. Yvonne has been involved with a variety of community and territorial organizations, with areas of focus in community policing and drug prevention, firearms safety, family violence, children and youth wellness, and suicide prevention. Yvonne is a past president of the Embrace Life Council, a non-profit suicide prevention organization in Iqaluit, and was a member of the implementation committee for the Nunavut Suicide Prevention Strategy.
Melanie Omeniho, President/Chief Administrative Officer,

Les Femmes

Michif Otipemisiwak (LFMO)

Melanie Omeniho is a descendent of the historical Métis community of Lac Ste Anne and is a proud member of the Métis Nation of Alberta. As a young person, Melanie attended meetings and assemblies alongside her mother and other strong Métis women role models who set the stage to creating spaces for Métis women's voices to be heard. Her political and advocacy career led her to play a role in the development and incorporation of Les Femmes Michif Otipemisiwak (LFMO) and to her four-terms as President, elected by Métis women across the homeland. Melanie has been the President of Edmonton Métis Local 1886 for nearly 30 years. She is also past-President of Women of the Métis Nation in Alberta.

Melanie has extensive experience in the areas of community development, social programming, family and children services, and Economic Development. She has developed many community programs and advocates on behalf of her community and Métis women to effect changes to the various social programs to better meet the needs of the Indigenous community. 

Melanie plays an integral role in Métis Nation governance. She sits on the Board of Governors of the Métis Nation as a non-voting member while ensuring consistently that the interests of Métis women are considered in every decision. She also played a key role in the development of Métis Nation priorities to be addressed at the Permanent Bilateral Mechanism table between the Métis Nation and Canada. Melanie has acted on behalf of the Métis Nation on several critical matters as they relate to the Duty to consult and engage.
Tracy Porteous, Executive Director, Ending Violence Association BC

Tracy is a Registered Clinical Counsellor and leader in the Canadian anti-violence sector, having spent the past 38 years working to address gender-based violence through providing services to survivors and their families, developing policy and programs, contributing to legislative advancement, and cross-sectoral training and collaboration.

In 2020, Tracy was inducted into the Order of British Columbia and was also bestowed an Honorary Doctorate from the University of British Columbia.

Tracy is a three-time Governor General of Canada medal recipient, was a member of BC's Domestic Violence Death Review Panels, has testified to federal Parliamentary committees, spoken as a Canadian delegate at the United Nations, is a member of the National Domestic Homicide Prevention Committee as well as the Canadian Femicide Observatory for Justice and Accountability.

Tracy co-launched the ground-breaking, award winning Be More Than a Bystander: Break the Silence on Gender-Based Violence campaign with the BC Lions Football Club.

Tracy is currently the Executive Director of the Ending Violence Association of BC, a provincial association supporting over 300 anti-violence programs and initiatives across BC that respond to sexual and domestic violence, child abuse, and criminal and sexual harassment. Tracy is also Co-Chair of the Ending Violence Association of Canada.
Maya Roy, Chief Executive Officer, YWCA Canada

Maya is a diversity specialist with 22 years of experience in a variety of sectors in public policy development, public health, adult education and social work. Her work has taken her to Thailand, Brazil, India and the UK where she worked with NGOs to support human rights and violence prevention. Her essays have been published in Going Beyond the Journey (2013) by Insomniac Press, and she is the winner of the 2013 CASSA (Council of Agencies Serving South Asians) Gender Advocate Award and the Toronto Community Foundation's Vital People award in 2014. She has a Bachelor of Social Work from the Ryerson School of Social Work, and has a Masters in Social Policy and Planning from the London School of Economics.

Maya was a member of the Gender Equality Advisory Council for Canada's G7 Presidency. She is currently part of Young Global Leaders with the World Economic Forum and sits on the board of Women's College Hospital.
Caitlin Salvino, Co-Founder of Students for Consent Culture Canada

Caitlin is a passionate human rights and intersectional feminist advocate who is deeply committed to using law as an empowerment tool. In 2017, she spearheaded OurTurn (renamed Students for Consent Culture Canada), a national organisation working with 40+ student organizations across Canada representing over 600,000 students to implement evidence-based prevention, support and advocacy programs to respond to sexual violence on campuses. Following this, she has been proud have contributed to the creation of a lot of "firsts" in this field including drafting the first Canadian student union sexual violence policy (SSMU (Students' Society of McGill University) at McGill University) and co-writing the first major scholarship organisation Code of Conduct (Rhodes Trust). She also serves as an expert advisor to REES (Respect, Educate and Empower Survivors), an online campus sexual violence reporting tool funded by the federal government and currently being piloted on post-secondary institutions in Manitoba.

In addition to her campus sexual violence work, she also has experience working for Oxfam Canada, West Coast LEAF and the Bonavero Institute of Human Rights. She has more recently become involved in disability rights justice and accessibility advocacy, serving as an Accessibility Advisor to the Rhodes Trust and elected to the Board of the Mastocytosis Society of Canada.

She has completed a BA in Human Rights and Law at Carleton University, and a MPhil in Law at the University of Oxford. She is currently pursuing her DPhil (PhD) in Law on the Canadian Charter of Rights and Freedoms at the University of Oxford as a Rhodes Scholar. Following this, she plans to complete a law degree and work collectively to transform Canadian society as a lawyer.
Wyanne Sandler, Executive Director, Antigonish Women's Resource Centre

Wyanne Sandler is the Executive Director of the Antigonish Women's Resource Centre and Sexual Assault Services Association (AWRCSASA), where she has held various roles since 2008. Her previous work with the AWRCSASA included coordinating a participatory action research project to address violence against girls and young women in rural communities and managing an immigrant settlement and support program. She is deeply committed to social justice, human rights and gender equity, and values strengths-based approaches rooted in community experience and expertise. She has been involved in human rights work both in Canada and in Latin America through her former role as the Coordinator of the Breaking the Silence Maritimes-Guatemala Solidarity Network, and through an internship with an Indigenous Women's Legal Clinic in Guatemala. She is a former Chair of the Women's Action Coalition of Nova Scotia, current Chair of the Antigonish Poverty Reduction Coalition, and sits on many local and regional committees devoted to social and environmental justice. Wyanne holds a BA in International Relations from Mount Allison University, an MA in Political Science and International Development Studies from the University of Guelph, and a certificate in Women's Leadership in Community Development from the Coady International Institute.
Paulette Senior, Chief Executive Officer and President, Canadian Women's Foundation

Paulette Senior has devoted her life and career to breaking down systemic barriers and building up diverse women and girls. Her personal experience immigrating to Canada from Jamaica as a young girl ignited her interest in social justice and helped make her the dynamic, grounded leader she is today.

Paulette's career began in social services in some of Toronto's most underserved neighbourhoods. She witnessed the need for systemic change and learned the power of putting the voices of women and equity-seeking communities first. She became known for her excellence in shelter, employment, and housing service provision, as well as for her intersectional approach to advocacy. She has earned numerous awards and has become one of the most respected women leaders in Canada.

In 2016, Paulette joined the Canadian Women's Foundation as President and CEO after a decade serving as CEO of YWCA Canada. She is a sought-after thought-leader on numerous issues including gender equity and gender-based violence; women's poverty and the wage gap; girls' empowerment; and leadership. Her focus at the Foundation is to bolster an inclusive national movement for all women, girls, and communities across Canada.

Paulette has worked with all levels of government and civil society to address issues including poverty, housing, gender-based violence, immigration, and social justice. She has led, managed, and operated shelters, employment programs, and housing programs at organizations such as Yellow Brick House, YWCA Toronto, Macaulay Child Development Centre, Lawrence Heights Community Health Centre, and Central Neighbourhood House. She is former Chair of the Board at Women's College Hospital and currently sits on the Boards of the Royal LePage Shelter Foundation and the global Women's Funding Network.

Paulette graduated from York University with a double honours BA in psychology and urban studies. Over the course of her career, she has won several awards including: the African Canadian Achievement Award, the AfroGlobal Leadership Award, the Black Women Civic Engagement Award, the Black Business and Professional Association's Harry Jerome Trailblazer Award, and the MicroSkills Margot Franssen Leadership Award.
Vicky Smallman, National Director, Human Rights Department, Canadian Labour Congress (CLC)

Vicky Smallman is the National Director of the Human Rights Department for the Canadian Labour Congress (CLC). She is a long-time activist on gender equality and human rights issues. After a number of years as a student leader and president of her graduate student and contract faculty union, Vicky spent a decade with the Canadian Association of University Teachers (CAUT), where she helped contract faculty organize and bargain collectively. She joined the CLC in 2010, where she directs the labour movement's policy and campaign work on women's and human rights, anti-racism, sexual orientation, gender identity and expression, Indigenous and disability justice.

Vicky was one of eight labour experts at the Tripartite Meeting of Experts that set the stage for the ILO's discussions on Violence and Harassment in the World of Work, and was part of the team that successfully concluded negotiations on the new ILO Convention 190. The CLC has spearheaded a successful initiative to address domestic violence at work in Canadian workplaces, winning paid domestic violence leave and other legislative reform in almost every jurisdiction in the country.

A proud mother of two busy children, Vicky is an active volunteer, having served on the boards of directors of a number of national and Ottawa organizations, including Equal Voice, Child Care Now, and the Somerset West Community Health Centre.

Vicky pursued PhD studies in English at McMaster University, has an M.A. from University College, Dublin in Anglo-Irish Literature, and a B.A. in English and Celtic Studies from St. Francis Xavier University. She has researched and written about academic labour issues, activism and women in Canadian politics.
Beba Svigir, Chief Executive Officer, Calgary Immigrant Women's Association

Beba Svigir has worked as the CEO of the Calgary Immigrant Women's Association (CIWA) since 2006. She has more than 35 years of work experience from 3 different countries in both for profit and not for profit sectors. Beba is a strong advocate for collaborative, community based approaches to service delivery for newcomers. Over the years, CIWA grew and expanded its services to become the biggest settlement agency with gender specific mandate in Canada.
Debra Tomlinson, Chief Executive Officer, Association of Alberta Sexual Assault Services (AASAS)

For over twenty years, Deb has worked passionately with community and government stakeholders to raise awareness of sexual violence and to increase access to services and support for Albertans affected. Her leadership and social change work has been recognized with awards from the Alberta College of Social Workers as well as the Government of Alberta. Most recently, Deb was named one of 20 Compelling Calgarians for 2018 by the Calgary Herald.

In 2004, Deb and her colleagues fostered a partnership with the provincial government which resulted in government funding for specialized sexual assault services, a first for Alberta. More recently, in response to a historic increase in survivors coming forward for help, Deb and her colleagues were successful in receiving $8.1 million to increase services for sexual assault survivors in Alberta. In the past three years, Deb and the AASAS team launched the award winning "I Believe You" public awareness campaign; the creation of Alberta's first Sexual Violence Action Plan; Alberta's One Line for Sexual Violence; a province-wide talk, text chat line providing support and information; and a Prevalence Study of Sexual Assault and Childhood Sexual Abuse in Alberta. Deb is finishing her second three year term on Alberta's Family Violence Death Review Committee and also co-chairs a national organization, Ending Violence Association of Canada.
Kim Trossel, Peer Counselor, Dream Catchers Program (Klinic Community Health)

Kim Trossel (pronoun she/her) is a woman with lived experience in the sex trade, and a survivor of human trafficking. She is known for speaking her truth, especially when it comes to activism for the rights, services, and supports for the sexually exploited, and adult survivors.

She has been employed by Klinic Community Health for the last 16 years, as a peer counsellor with the Dream Catcher program, where she co-facilitates the weekly support group for women and transgender women transitioning from the sex trade. (A sacred sisterhood of peer supported, strong- healing women, getting their power back.) She also facilitates the S.W.A.T. group, and Heart, Mind, Body, Spirit Group at Sage house, a street women's health, outreach, and resource drop in.

Kim was recently awarded the 2018 Empowerment Award for leadership and empowering women to find their voice by the Mobilizing Men's Foundation Health, Fitness, and Protection Program. Other accomplishments and employment include:

2018 to present: Clan Mothers Healing Village Project Steering Committee and experientialvoices.ca
November 2018 to present: Canada's Strategy to Prevent and Address Gender Based Violence, Federal Advisory to Honorable Maryam Monsef
August 2017 to present: Knowledge Keepers Advisory Council Regional Team, Tracia's Trust: Manitoba's Strategy to Combat Sexual Exploitation & Human Trafficking
2003 to present: Prostitution Offenders Program Advisory Committee
2007 to present Safe Night Off Winnipeg Streets (S.N.O.W Night) planning committee
Lana Wells, Associate Professor, Brenda Strafford Chair in the Prevention of Domestic Violence, Faculty of Social Work, University of Calgary, Alberta, Canada

Lana Wells is currently leading a primary prevention research initiative called Shift: The Project to End Domestic Violence (www.preventdomesticviolence.ca). Shift's purpose is to develop, implement and scale best and promising primary prevention practices, strategies and actions in partnership with government, systems, community leaders, and NGO's with the goal of preventing violence and advancing equity and inclusion.

Lana has held over 7 million dollars in research grants and has received numerous awards. She was bestowed the Alberta Inspiration Award in Leadership in Family Violence, recognized as a PEAK scholar from the University of Calgary, received the John Hutton Memorial Award for Social Action/Policy from the Alberta College of Social Workers and honoured in the YW's She Who Dares 150 Women Project. In 2017, she received the University of Calgary Teaching Award for Curriculum Development for the co-creation of Advancing Healthy and Socially Just Schools and Communities graduate certificate program.

Lana actively supervises graduate students within the Faculty of Social Work and the School of Public Policy where in 2012, she became a Research Fellow and Instructor. Her passion includes advocating for the prevention of family and sexual violence, advancing gender equality and equity, developing social policies to prevent and respond to complex social issues, preventing teen dating violence, advancing social justice and creating transformational change. Lana loves to collaborate with leaders from diverse disciplines and sectors and works closely on organizational and system change processes within government and the not for profit sector. Lana has advised, consulted and partnered with all orders of government in Canada on prevention research and social policy. She has collaborated with numerous international organizations, where she has contributed to panels, led workshops and supported the development of international resolutions. Her current research interests include engaging and mobilizing men and male-dominated spaces in violence prevention and gender equality, advancing collective impact and systems change to stop gender-based violence, and advancing innovation in the not-for profit sector by going beyond programs and policy change.
Lorraine Whitman, President, Native Women's Association of Canada

Lorraine Whitman ("Grandmother White Sea Turtle"), daughter of the late Chief Joseph Peters and Doris (Brooks) Peters and granddaughter of the late Chief Louis Peters of Bear River, is a member of Glooscap First Nation in Nova Scotia.

Since graduating with honours from the University of Alberta's Grant McEwan College Rehabilitation Practitioner program, Lorraine's career has focused on health care and healing. Early in her career she developed, implemented and evaluated personal and educational programs in Edmonton-based schools, workplaces and social environments for individuals with physical needs and challenges. Upon returning to Nova Scotia in 1987, she worked for 23 years as a social development officer for Glooscap First Nation. In 2010, Lorraine was employed as the Aboriginal Diabetes Initiative Coordinator for Glooscap First Nation.

Lorraine served Glooscap First Nation as an elected councillor from 1997 to 2012, sat on the Board of Directors of the Confederacy of Mainland Mi'kmaq for more than 15 years, served as a health committee member for the Tripartite Forum for more than 10 years and was the Mi'kmaq representative on the Annapolis Valley School Board from 2000 to 2003. She also developed The Seven Sacred Teachings Coffee roast blend for Just Us! Coffee, with a portion of the proceeds directed toward select Indigenous programs.

In 2017, Lorraine was elected president of the Nova Scotia Native Women's Association and became an Elder for Acadia University. She is also a recipient of the Nova Scotia Volunteer Award (2019). Most recently, she was elected president of the Native Women's Association of Canada (NWAC) in September 2019.

Outside of attending to her duties as NWAC's president, Lorraine splits her time between her career and speaking on Mi'kmaw culture in schools and at public events. She is an artisan and a volunteer in her church and at the local elementary school.
Julie Young, Professor, Brescia University College, University of Western Ontario

Julie is a Professor of Leadership and Community Development at Brescia University (Western). She is the 2020 recipient of the Excellence in Teaching Award. Julie has extensive experience conducting research involving marginalized individuals, working with Black, Indigenous, People of Colour and in under-resourced community contexts. Her current research program addresses women's empowerment and social capital, the financial and social inclusion of those experiencing poverty, and gender based violence. Her teaching areas include Social Inequality, as well as Work, Occupations and Leadership Studies. More specifically, she addresses Race and the Intersection of Gender & Class, Gender Equality, Gender Based Violence, Women Empowerment, Globalization, Community Development and Poverty Alleviation. Prior to becoming an Academic, Julie worked in Finance at the Royal Bank Financial Group and as a Strategy Consultant. She has over 15 years' experience in business development, a strong knowledge of strategy development, as well as expertise in operating plans, risk management, finance, due diligence, contracts and negotiations. Julie is the past Chair of the London Race Relations Advisory Council, the Royal Bank Equity and Diversity Council and Londoners for Opportunity. She is a member of the International Leadership Association, the Canadian Sociological Association and the Sociologist for Women in Society (SWS).
Lynn Zimmer, Feminist Retiree

Lynn Zimmer has been working to prevent violence against women for over 48 years. She recently retired after serving as the Executive Director of YWCA Peterborough Haliburton for 35 years. During her tenure the YWCA expanded services and reach, creating a continuum of life-saving and life-changing services for women and children escaping abuse.

Lynn began her work career as the women's page reporter for the Peterborough Examiner in 1969. She then moved to Toronto and tried law school for a year. In 1973, Zimmer was one of the founders of Interval House, Toronto, Canada's first shelter for women and children escaping abuse, which continues to serve women today.

In 1984, she became Executive Director of the YWCA in Peterborough. Like everyone who works in community services, Lynn spent many hours in community committee and project work, including four years as a member and first woman chair of the Peterborough Community Police Services Board.

She is currently a Mentor with the Trudeau Foundation and a 2019 recipient of the Order of Canada.

Zimmer says she got started in the women's movement because she was a young feminist who was mad about everything. She's still mad!
Engagement process
Find out more about the conversations and engagements that informed the development of the GBV Strategy in 2016.
Infographic version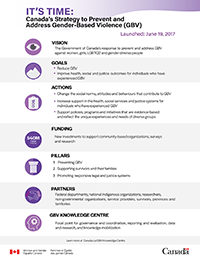 Report a problem on this page
Date modified: