Empowering women for political office on Prince Edward Island
Organizations:
PEI Coalition for Women in Government
Winding Path Inc.
Women's Network PEI
Project: Engaging Island Women for Political Action
Location: Prince Edward Island
Subject: Encouraging leadership and democratic participation
Duration of funding: January 3, 2017 to January 2, 2020
Publication date: 2020-11-20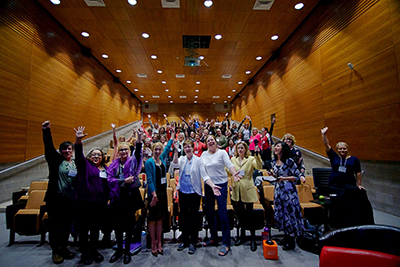 Women are not equally represented in Prince Edward Island (PEI)'s political sphere. In 1993, Catherine Callbeck was the first woman premier elected in Canada in a general election. Today, women make up only 26% of PEI's provincial legislature. Women's participation in politics and civic life is important to make sure that decisions made by governments reflect the diversity of experiences in Canada. 
Funded by Women and Gender Equality Canada, the PEI Coalition for Women in Government, Women's Network PEI and Winding Path Inc. worked together to empower women in PEI to participate in political spheres and eliminate barriers to women's political participation.
Project in action 
This coalition of organizations engaged with 188 people, including 161 women, to identify barriers to women's political participation in PEI. Six key barriers were identified:
sexism
home and family commitments
financial inequality
recruitment
party inclusiveness
mentorship
The coalition then organized and hosted the Organize to Lead: Provincial Symposium for Women to expand the conversation on transforming the conditions for women's leadership. Stakeholders, elected officials, political parties and local women were invited to discuss the needs and existing barriers to women's political participation.
The organizations also developed and delivered leadership workshops that 82 local women attended. These workshops focused on increasing women's confidence and leadership skills, strategic action planning and broadening awareness of the six identified barriers to women's political participation. Following the workshops, participant testimonials revealed that:
4 women put their name forward to run for office
13 women chose to work on a woman's political campaign
9 women reported employing an intersectional lens in their work
8 women sought out a mentor
In addition, the organizations worked with political parties on PEI to identify ways to increase women's political participation in the province. This led to some of the parties developing:
a financial aid fund for women in politics
childcare support for women during meetings
gender and diversity training
the official opposition party in PEI put forth a motion to improve gender balance in the legislature
 The project also led the Legislative Assembly of PEI to make important policy changes that remove some of the major barriers identified by the project, especially those related to home and family responsibilities. On June 10, 2020, the Assembly voted to approve:
the elimination of evening sitting hours
set fixed dates for the parliamentary calendar
set blocks of time allocated for committees
aligning with the school calendar
In the 2019 provincial election, the number of women nominated as provincial candidates reached a record high of 33.3% and the percentage of women elected to the Legislature increased to 23% from 18% in 2015.
On the record
"This project was unique in its approach as it adopted a holistic approach to the barriers to leadership faced by women and other minority groups. From empowering participants through skill building, to developing recommendations and working with political parties, as well as examining structural obstacles, there was a conscious effort to work at all levels to ensure efforts were made to address underrepresentation of women in legislative bodies. The uptake and reception following the completion of the project have allowed for momentum to build and work to continue in trying to achieve gender equity and representation."
"This project led to changes to the democratic environment in PEI through more equitable policies and laws. It also impacted many within this environment, as they came to view the world through a gender and diversity lens. Participants of the workshops not only increased their leadership capacity, but they developed the confidence to utilize it, to take action they never thought possible. With the support of WAGE, Winding Path Inc. continues to learn of a never-ending chain of events which will advance equality for women, events initiated by the collaborative work of all partners."
"Women and many marginalized communities continue to be excluded from political power. This project was important to provide tangible supports for women entering politics while also working with the parties, institutions and systems that impact women's participation. Legislative politics as we know it today was created at a time when women and people are colour were not considered human in the eyes of the law. Given this historical reality we have a lot of work to do to make these systems equal and truly representative of our population."
Some of the information on this Web page has been provided by external sources. The Government of Canada is not responsible for the accuracy, reliability or currency of the information supplied by external sources. Users wishing to rely upon this information should consult directly with the source of the information. Content provided by external sources is not subject to official languages, privacy and accessibility requirements.
Additional resources
Report a problem on this page
Date modified: