Reducing sexualized violence against women and girls in rural Nova Scotia
Organization: Antigonish Women's Resource Centre and Sexual Assault Services Association
Project: Partnering to Transform the Context and End Sexualized Violence
Location: Antigonish, Nova Scotia
Subject: Gender-based violence
Duration of funding: March 24, 2017 to March 31, 2020
Publication date: 2020-11-05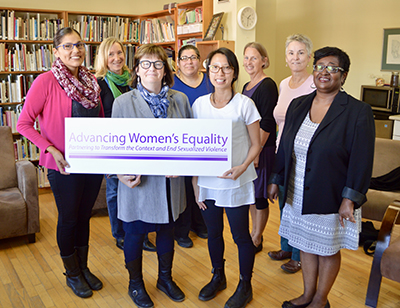 In Canada, sexualized violence, including sexual harassment, sexuality-based shaming and blaming, and sexual assault, is experienced by many people, and can have lifelong impacts on their physical and mental health. Approximately 5.9 million people in the provinces have been sexually assaulted since the age of 15. Too often, this type of violence is normalized and minimized and this is unacceptable and preventable.
With funding from Women and Gender Equality Canada, the Antigonish Women's Resource Centre and Sexual Assault Services Association (AWRCSASA) addressed the issue of sexualized violence in rural Nova Scotia, with a focus on how it affects students from grade 7 through university, faculty and staff, as well as Indigenous communities. Addressing the normalization, minimization and perpetration of sexualized violence through changes to policies, procedures, and student and community cultures was the primary focus of the project.
Project at work
The project partnered with St. Francis Xavier University, Paqtnkek Mi'kmaw Nation, and the Strait Regional Centre for Education and were supported by various groups and individuals from Community Sector Nova Scotia, Nova Scotia RCMP, the National Network to End Domestic Violence in Washington, D.C., the Public Health Agency of Canada, and the Nova Scotia Department of Community Services.
Through this project, tools were created to change social norms and behaviours related to sexualized violence, including an Indigenous-specific consent education framework, an action plan for preventing and addressing sexual violence within Paqtnkek Mi'kmaw Nation and a Sexual Violence Policy Evaluation Framework for addressing violence against women at St. Francis Xavier University.
The AWRCSASA also delivered several sexual consent education sessions. These sessions raised awareness about consent and sexual violence. More than 1,300 youth in rural Nova Scotia from grades 7 to 12 participated in these workshops.
Consent workshops were also held in post-secondary institutions, rural communities, and Indigenous communities to raise awareness of gender-based violence in these settings. More than 1,500 people in northern Nova Scotia participated.
The AWRCSASA has also supported the development of a virtual orientation workshop for students, faculty and staff at university campuses in Nova Scotia, in collaboration with St. Francis Xavier University, the Strait Regional Centre for Education and the Nova Scotia Department of Justice.
On the record
"As we collaborated to make change and address sexual violence in our communities, we were also challenged to define change differently to better fit our rural context and to centre the role of relationships in our change-making, particularly in our relationships with the Mi'kmaq community of Paqtnkek. Relationships are at the core of our work on consent. In this work, we aim to empower women, girls, Two-Spirit, and trans and non-binary folks and to inform people of all genders about the responsibilities we have in all our relations, no matter how brief our relations might be or whether they include sexual activities at all. This learning has supported our collective understanding and practice of reciprocal relationships toward reciprocity and reconciliation in our region."
Some of the information on this Web page has been provided by external sources. The Government of Canada is not responsible for the accuracy, reliability or currency of the information supplied by external sources. Users wishing to rely upon this information should consult directly with the source of the information. Content provided by external sources is not subject to official languages, privacy and accessibility requirements.
Additional resources
Report a problem on this page
Date modified: