Federal 2SLGBTQI+ Action Plan: An Ongoing Commitment to Action
On August 28, 2022, the Government of Canada launched the federal 2SLGBTQI+ Action Plan. 
The Action Plan will advance equality and the rights of 2SLGBTQI+ people in Canada. The path forward is forged in collaboration between the Government of Canada, 2SLGBTQI+ communities, organizations, and individuals. 
The Action Plan brings together present and future federal action under a holistic, whole-of-government approach to help improve the lives of 2SLGBTQI+ people. 
Federal 2SLGBTQI+ Action Plan implementation progress: what has been achieved
The Federal 2SLGBTQI+ Action Plan focuses on six priority areas. The following section outlines the progress made on each of these priorities: 
Prioritize and sustain 2SLGBTQI+ community action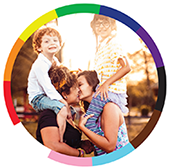 Supporting the growth, sustainability and leadership of 2SLGBTQI+ community organizations in advocating for and serving the communities they represent. 
Accomplishments
Announcement of successful projects from 2SLGBTQI+ Projects Fund underway:
Continue to advance and strengthen 2SLGBTQI+ rights at home and abroad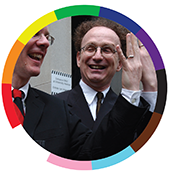 Promoting and continue strengthening the rights of 2SLGBTQI+ communities in Canada and abroad.
Accomplishments
Launch of consultations to review the criminal law regarding HIV non-disclosure.
Continuing the Government of Canada's work to advance the global protection and promotion of 2SLGBTQI+ rights through diplomacy and advocacy at multilateral, regional, bilateral and international levels.
Continuing the Government of Canada's work in organizing missions-international initiatives that support 2SLGBTQI+ objectives by designing activities, advocacy campaigns and selected programs to raise awareness of 2SLGBTQI+ rights in various countries.
Providing effective and efficient consular services to Canadians abroad, regardless of their sexual orientation, gender identity and expression, and tailored to the individual personal circumstances.
Global Affairs Canada's launching a webpage devoted to assisting Canadians that are sent abroad for conversion therapy. https://travel.gc.ca/assistance/emergency-info/conversion-therapy
Building on investments since 2019 for 2SLGBTQI+ projects abroad by continuing to work towards an annual investment of up to $10 million starting in 2025-26.

Global Affairs Canada's continued commitment to build on investment in 2SLGBTQI+ projects includes the $3.5M Faces for Gender Equality project, announced in October 2022. The project will support five organizations to advance the economic, political and social rights and empowerment of 2SLGBTQI+ communities in Guatemala, El Salvador, Honduras and Nicaragua.
Support Indigenous 2SLGBTQI+ resilience and resurgence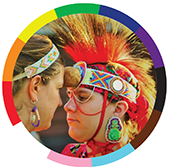 Supporting the resilience and resurgence of Indigenous 2SLGBTQI+ communities as the first 2SLGBTQI+ communities
Accomplishments
Engage everyone in Canada in fostering a 2SLGBTQI+ inclusive future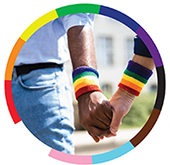 Raising awareness and improve understanding of 2SLGBTQI+ communities and issues.
Accomplishments
Launched public opinion research as the first phase of work in the awareness campaign to enhance inclusion and break down stigma and discrimination against 2SLGBTQI+ communities.
Strengthen 2SLGBTQI+ data and evidence-based policy making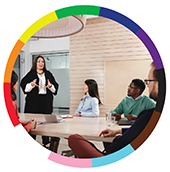 Improving data collection, analysis, research and knowledge on 2SLGBTQI+ communities in Canada. 
Accomplishments
Upcoming research implementation plan in approvals for $7.7 million to support new community-led research, and to conduct new data collection and research to inform future 2SLGBTQI+ initiatives.
Agreement signed between WAGE and Statistics Canada to support the development of research projects related to 2SLGBTQI+ people in Canada.
Embed 2SLGBTQI+ issues in the work of the Government of Canada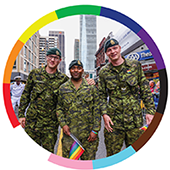 Strengthening mechanisms to advance 2SLGBTQI+ issues and ensure coordinated Government of Canada responses to community priorities.
Accomplishments
Meetings with the community representatives for new Community and Government of Canada Partnership Committee have begun. Co-led by the Government of Canada and community stakeholders, the Committee will provide a structured and regular opportunity for communities to inform the implementation of the Action Plan and inform future actions.
Established and held first meeting of federal senior officials interdepartmental governance table on 2SLGBTQI+ issues.
Completion of Canada Pride Citation ceremonies for RCMP claimants under LGBT Purge Class Action Settlement Agreement.
Treasury Board Secretariat co-developed session for the Mosaic Leadership Development Program included a representative from Positive Space Initiative.
Mosaic Leadership Development program: Overview - Canada.ca
Presentations on the Action Plan to federal departments and external stakeholders.
Next Steps
The Government of Canada is committed to implementing the 2SLGBTQI+ Action Plan and reporting results to Canadians. Stay tuned for more updates.
Report a problem on this page
Date modified: