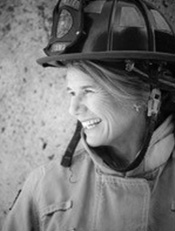 Louise is currently Division Chief of Safety with Ottawa Fire Services, promoted to this position in 2020 after over 21 years as an active firefighter. In 1999, Louise became one of the first three women firefighters hired by the City of Ottawa.
Louise is a founder and past president of Fire Service Women Ontario (FSWO), a not-for-profit organization established in 2009 to educate, encourage and empower women in the fire service. Any person of any gender who supports the mandate is welcome to join as a member.
A first of its kind in Canada FSWO now includes hundreds of members from across the country and around the world. Louise remains on the board of FSWO.
Louise was also instrumental in establishing Camp FFIT (Female Firefighters in Training), a day camp for young women to try firefighting. Camp FFIT is an Ottawa Fire Services program which has served as a model for other fire services from across Canada. 
Louise is an accomplished national athlete who represented Canada at the Pan American Games in 1987 winning two silver medals in sprint kayaking. She holds a bachelor's degree in Health and Physical Education/Fitness (University of Ottawa), an Executive Diploma in Municipal Management (Western Ontario/Seneca College) and a Certification in Dispute Resolution (York University).
"It took me some time to understand that I do not have to be the same as my crew to be a good firefighter. It's our differences that give us strength as a team."